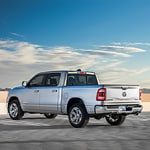 There's a lot of discussion regarding the Ram 1500. If you love trucks, you will definitely understand why this light-duty pickup truck is getting so much attention. Chief among its many benefits are incredible safety features.
Parallel and Perpendicular Park Assist

Finding a parking space and then being unable to get into it can be frustrating. That's why Parallel and Perpendicular Park Assist is such a great feature. While driving a Ram 1500, you'll receive both visual and audible instructions that will help you park safely.

Blind Spot Monitoring

?One of the most frustrating aspects of driving is not being able to fully see behind you. This is where Blind Spot Monitoring comes into play. It's a feature in the Ram 1500 that helps you back up safely. It can even gauge the trailer length when hauling .
The team here at Parkway Chrysler Dodge Jeep Ram encourages you to test drive the Ram 1500 here at our dealership.