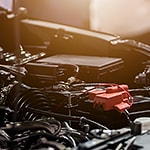 One of the most crucial components of your car, the battery and its effectiveness are impacted by outside temperatures. Extreme outdoor temperatures can impact significantly the functionality of your car's battery.
When outside temperatures reach freezing levels, the effectiveness or functionality of a battery drops by about 20%. If outside temps plunge below -22 degrees Fahrenheit, the effectiveness of a battery is reduced by half. If the temperature climbs over 90 degrees, the life of a battery can be reduced by about 50%.
You need to regularly check your battery to ensure that it is in top condition. If your battery requires service, or if you are in need of any other type of routine service, visit us at Parkway Chrysler Dodge Jeep Ram. Our friendly, knowledgeable service professionals are eager to assist. Located in Dover, we can schedule a service appointment at you convenience.