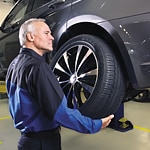 At Parkway Chrysler Dodge Jeep Ram, we have the Mopar Vehicle Protection Road Hazard Tire and Wheel Coverage plan for your vehicles. This coverage is great if you travel extensively or commute long distances daily.
This tire and wheel coverage plan is excellent for vehicles with less than 100,000 miles on the odometer and is less than ten years old. There is no deductible for repair visits and $100 for towing and assistance when you are stranded on the roadside.
These roadside assistance coverage benefits include repair or replacements for four tires and wheels for your vehicle. The plan also covers damage to your wheels when road conditions cause it. The coverage also includes stems, mounting, and balancing of your tires. If there is damage to the sensor gauge because of a road hazard, it provides replacement of the pressure sensor gauge as well!